Hanbell Screw Compressor Selection Program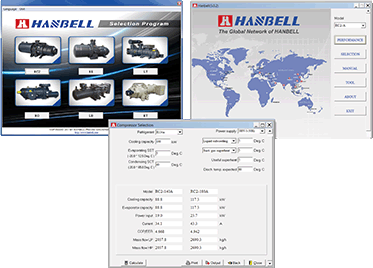 Hanbell Selection Program
RELEASED VERSION
The Hanbell Screw Compressor Selection Program is a user friendly tool that helps the user choose the correct screw compressor for a specific application. The selection program allows the user to calculate screw compressor performance at various design conditions. Performance data can then be printed or saved and output to an individual design point or performance table.

The selection program is compatible with the following Microsoft Windows Systems:
2000/XP/2003/Vista(32bit&64bit)/WIN 7(32bit&64bit)/WIN 10(32bit&64bit)

Please Note: This file contains the latest official release of the Hanbell Screw Compressor Selection Program. To install the software simply download (Save) the above file to your computer and then run it by clicking on the downloaded file.